This is a monkey.
Great, this place is right!
I should rest here tonight, under the boulder amongst the trees.
The weather is comfortable and the moon is full, I will be happy.
Tomorrow will be refreshed for the long journey of life…
Artist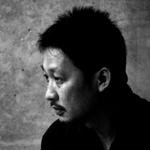 Udom Udomsrianant (1956) graduated from the Faculty of Fine Arts, Sculptures and Printing, Silpakorn University. But he is working on interior design under the concept of Minimalism. Over 20 years of working experience, his work includes painting and sculpture and most distinguished work is in design. He won the 'Designer of the Year' in 2004. Now he is in the position of the 'Chief of Design and Artist' in the 'Planet 2001', a company which creates furniture that so attractive that the passer-by has to stop and pay attention to.
UDOM UDOMSRIANAN of Planet 2001 

INSPIRED BY EARTH Udom Udomsrianan is a painter and sculptor by training and a lover of art since childhood. His approach in creating furniture is to embed sculpture in functional objects so that more people can enjoy the pleasures of art. The result is his playful, highly tactile collection based on plant, animal and mineral forms. Strong on intuition, Udom creates furnishings as free-form  as sculpture but he dares to put them into regular production, rather than make costly one-offs the way art furniture is usually made.
Udom's animated shapes are a contemporary echo of the design trend toward strong biomorphism that first emerged in Europe and the United States in the 1960s. But Western designers explored curvilinear forms to take advantage of new technologies, like  advanced plastics and injection moulding, that could be used to produce almost any shape imaginable. Udom dares to make his  furniture organic not only in form, but also in substance, using natural materials like rattan, jute and liana vine.
"Why should furniture just be something to sit on? Why not go inside it? When you were a child, you would take a box  and make a room for yourself."
Udom says he takes inspiration from anything that makes people smile or feel happy (modern art, pop culture, cartoon shows like the Jetsons and the Flinstones). But his primary design touchstone is the world of nature. When he first started sketching furniture designs in 2000, for instance, he began with the simple, amorphous shape of a river rock. This became the seat called Form From Mars. The idea came naturally: "When I can't concentrate or feel depressed, I always think how I'd like to be out in the countryside sitting on a rock by a waterfall. Thai's the most comfortable moment for me."
Starting from this primitive form, Udom went on to create more complex designs also based on rock shapes. In his third year of work, he put three rocks together to form the Threesome Noodle Chair. A Paris jury awarded this seat a second prize in Elle Decoration's international design competition in 2003. The next year, Udom revisited the rock form, this time deciding to hollow it out so you could go inside. It became a piece of furniture called the Rock Cabin, a kind of cave woven of rattan or liana that provides a private space in which to rest, read or meditate. It's Udom's favourite Planet design: "Why should furniture just be something to sit on? Why not go inside it? When you were a child, you would take a box and make a room for yourself."
It comes as no surprise to learn that Udom worked as an artist before venturing into furniture. He had a typical Bangkok upbringing as one of seven children of a printing shop owner in the city's Chinatown. He spent his school vacations in the countryside, near the old floating market where his grandmother worked as a  hawker. Inspired by his father's love of art and music, he excelled at sculpture from a very early age, studied painting at Silpakorn University, and worked as a graphic artist and interior designer before founding Planet. Udom says art school helped him become a better designer. "The professors give you very open-ended questions, and you have to find out for yourself. So this taught me how to think. How do you produce a chair different from what's been done for the past 100 years?"
"In the third year, I put three rocks together. I looked at it from every angle, upside down. It reminded me of a mountain I saw in China."
Reference:
Bangkok Design: Thai Ideas in Textiles and Furniture / Brian Merteus;
Photographs by Robert Mcleod - Singapore: Marshall Cavendish Editions, 2007. (p.42-47)