Artist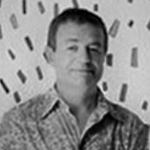 Angus Hutcheson (1955) graduated in the Architecture. He began with working on architecture before fell in love with the charm of design. In 2002 he moved to Thailand and found that there are plenty of materials and has got various inspirations. Presently he owns 'Ango', a design company for stylish furniture and lamps.
Ango - Angus Hutcheson (contact@angoworld.com)
NATURAL BALANCE No Bangkok designer is more adventurous in using new materials  than Angus Hutcheson, an English architect who moved to Thailand and started making lamps in 2002. His lighting designs are likely the first ever to use palm leaves, raw silk cocoons, shredded plantation timber, hand-moulded natural rubber and other unusual local materials, which he employs as the lamp diffuser, the exterior element of the fixture that refracts and distributes light from the bulb inside.
Hutcheson favours unmistakably natural materials that are renewable and can be used in raw or lightly processed form, so they consume less energy in production. He combines these organics with machined elements like stainless steel cantilevers. In this way, he means Ango designs to be sustainable in both technique and the message they convey. "it's a kind of allegory about how we can live alongside nature in a technological world."
Many Ango designs take a natural form as a starting point: a bird's nest, a chrysalis, a fish. They show a sense of proportion and structure that reflects Hutcheson's two decades of practicing architercture in England, the United States and Latin America. "The old truths of architecture-honourable intention, delight, usefulness-hold fast in furniture and lighting as well. In designing a lamp, form and structure are both vital, as they are in architecture, but materials become more  important-their texture, colour rendering and light diffusion."
Hutcheson's work is kindred to that of his friends Udom Udomsrianan, ML Pawinee Santisiri and Suwan Kongkhunthian, who have exhibited together with him at Tokyo's Hara Museum. His approach recalls the biomorphic furniture and lighting designs of mid-century modern figures like American sculptor lsamu Noguchi, but showing a bolder experimentation with materials and form. Hutcheson's success in giving such strong aesthetic expression to design with sustainable characteristics points toward a promising new direction for applied arts in Thailand. "What's happening in design here is not just a shift in fashion, but people now looking at the bigger picture-ecology and how we use resources. It's not just muesli sustainability. It has to be sophisticated for consumers today."
"It's a kind of allegory about how we can live alongside nature in a technological world."
Twig
mutiple cracking in space
This ceiling light was conceived as an unexpected organic form, but rather than a regular diffuser, it's a reverse diffuser with the light concentrated on the openings and on the cracking within the surface.
The diffuser is formed using a freeform moulding technique, and new composite material both developed by Ango. The material is an inner skin of hand cast polymer with an outer skin of polymer derived from tapioca.
The ceiling box is in hand finished brushed steel.
TYPE: Mains voltage ceiling light
MATERIALS: Hand cast polymer + tapioca based polymer + stainless steel
DIMENSIONS: 150 mm diameter x 800 mm long
Reference:
Bangkok Design: Thai Ideas in Textiles and Furniture / Brian Merteus;
Photographs by Robert Mcleod - Singapore: Marshall Cavendish Editions, 2007. (p.97-99)