Artist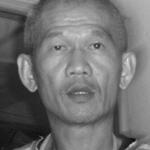 Thaivijit Phuengkasemsomboon (1959) graduated from the Faculty of Arts, Scuptures and Printing, Silpakorn University. More than two decades, he has worked on paiting, printing,sculpture, design, etc. He is well-known for colorful and freeform 'Functional Object' and acquired reputation as 'God of objects' from 'Wachira' After open Mo Shop – a shop that is more than just a gallery- in the beginning of 2008, Thaivijit is creating much larger piece of work called 'Mo Hotel' on Tha Phae Road which expected to be finished soon.
An artist known for his industry and professionalism, Thaiwijit Poengkasemsomboon possesses a creativity that spans many categories. As an art student in Bangkok and Poland, he trained in printmaking, but later made his mark as one of Thailand's leading abstract painters, known for canvases that buzz with jazzy energy and colour. He has adapted his improvisationalist aesthetic to sculpture and one-off design objects like lamps, furniture, interior fixtures and pots. At times he orchestrates all these elements at once to compose interiors and architectural designs for spaces like restaurants and hotels.
Thaiwijit's design objects are mostly resurrected from junked machinery, reclaimed furniture components and discarded construction materials. Usually he combines these elements with pipe, cement. Electrical fittings or other generic materials bought from the hardware store. The resulting designs are alive with quirky personality. The creative process of recycling doubles the pleasure for the artist: he delights both in making things and in discovering their raw ingredients, often in junkyards or second-hand markets. For him, rapture might mean finding an old oil drum with an especially raw surface texture and unusual mouldings.
The designs hint at the personality of their protean creator, who is optimistic, good-humoured, independent, entrepreneurial and, in all this, really Thai. He credits his resourcefulness to this upbringing as one of eight children of a noodle-shop owner in the deep-south province of Pattani. "I had to develop many different abilities to help run my parents' restaurant. Thanks to this I know to deal with things."
Like his personality, Thaiwijit's aesthetics are rather Thai, but they upend traditional Thai style. Conventional Thai aesthetics-as expressed in textiles, palace crafts and classical architecture-call for symmetry, harmony, fine pattern and detail, true colours and prettiness. In contrast, Thaiwijit's shapes are oblong, his proportions asymmetrical. His colours are often the neutral tones of raw plywood, cement and unfinished metal. Other times he uses paint in offbeat industrial hues: fluorescent orange, powder green, grey-purple.
The Thainess of all this lies in the artist's genius for transposition. His work conveys both the primitive, folkish sensibility of rural crafts and the gritty, densely layered textures and imagery of Thailand's endearingly ramshackle urban environment. It's not just that you can sense Bangkok in his work. It's that you begin to see Thaiwijit in the Bangkok all around: the storefronts with their layers of paint, handmade signage, gates and wires; the colourful trucks decorated by their drivers; the maze of impromptu construction. In this, his functional objects transcend the usual boundaries of design, and reveal themselves as works of real art.
"I had to develop many different abilities to help run my parents' restaurant. Thanks to this I know how to deal with things."
"My intent is to give value to worthless objects by recycling them or changing their original function into something new."
"THIS IS THE FINAL RESULT OF INDUSTRAILISM. THE ARTIST IS USING EXISTING MATERIALS AND RECYCLES AND ARRANGES IT INTO SURPRISING TRENDY AND STYLISH D?COR…OLD BECOME NEW!"
POST INDUSTRIAL
Refection's most inventive room is also its most inexpensively constructed, made from reclaimed junkyard materials and ordinary objects from the hardware store. Crafted by abstract painter Thaiwijit Poengkasemsomboon, the room embodies his sense of the offbeat beauty of the artefacts of industry. The palette is coolly subdued, centering on the neutral tones of cement, metal, unfinished wood, half-painted plasterboard and exposed brick. Accent colours glint from the ceramic tiles of the shower platform in pastels, the window curtain in gem-like hues, and an exposed water pipe in powder green.
The recycled elements are rich in textures softened and warmed by long use, the same aesthetics seen in Thaiwijit's many designs for lamps and pots. He sculpted almost all the fixtures himself, including the sink made from an old chair, Eero Saarinen's classic Tulip design. It all functions well. Light switches, tables, seats and shelves are optimally positioned. The open layout creates a luxuriously wide space from a small room, thanks to the low horizon created by sinking the bed into the floor.
Reference:
Bangkok Design: Thai Ideas in Textiles and Furniture / Brian Merteus;
Photographs by Robert Mcleod - Singapore: Marshall Cavendish Editions, 2007. (p.101-105, 163)
Rapture by Thaiwijit
ISBN 974-87937 © Copyright: 2001 Vis-Art Co., Ltd. All right reserved.
Published: Vis-Art Co., Ltd.
33/10 Ekamai 12, Sukhumvit 63 Road, Bangkok 10110
Tel: 0-2391-2263 E-mail: visart@loxinfo.co.th
Print: Hua Nam Printing Co., Ltd. THAILAND